Vehicle fleet
Vehicles for every requirement
RELAY recalls on a very extensive fleet of vehicles nationally and internationally, which may differ regionally depending on service availability. This means that the vehicle manufacturer and model may differ from the following list abroad, but the same quality is guaranteed. Following the offer for Germany and large areas of the neighbouring countries: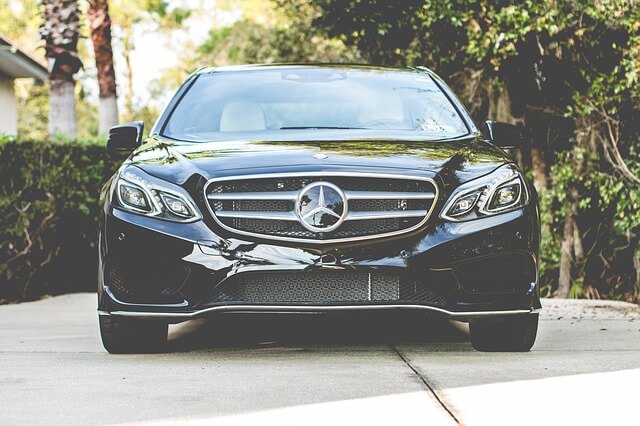 BUSINESS CLASS LIMOUSINE
e.g. Mercedes E-Class, Audi A6, BMW 5 Series
Standard for short and medium drives, airport transfers and general transfers with a maximum of 3 passenger seats. Mineral water included, chauffeurs wearing suit, tie and leather shoes.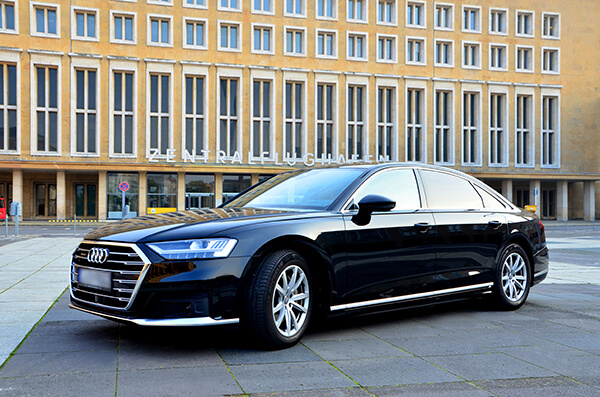 FIRST CLASS LIMOUSINE
e.g. Mercedes S-Class, Audi A8, BMW 7 Series
For short or long, regional or national drives and high demands with 1 – 3 passengers. Depending on the vehicle with screens, individual rear seats or massage function. Mineral water included, chauffeurs wearing suit, tie and leather shoes and heed the high demands of their passengers with competence.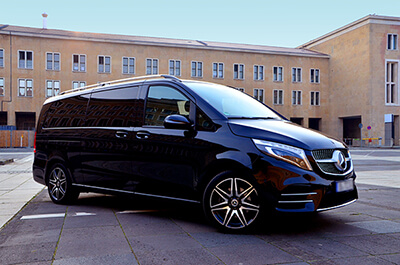 FIRST CLASS VAN
e.g. Mercedes V-Class, Volkswagen Caravelle
Universally applicable with 4 – 7 passenger seats for airport and general transfer drives of small groups with a lot of luggage. Depending on the vehicle, row-seating or vis-à-vis seats can be available. The latter allows meetings to be held while driving or a "touch-up" for stars before they leave the vehicle. Mineral water included, trained chauffeurs wearing suit, tie and leather shoes.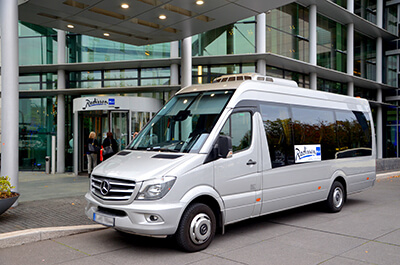 BUSINESS CLASS SPRINTER
e.g. Mercedes Sprinter, Volkswagen Crafter
For airport transfers or longer trans-regional drives, depending on length sufficient space for 8 – 19 people – vehicles with up to 8 passenger seats have fixed rows of seats, vehicles with 15 – 19 passenger seats have adjustable sleep seats, but cannot hold 19 large suitcases. Mineral water available and able to be purchased, chauffeurs wearing shirt and dark trousers.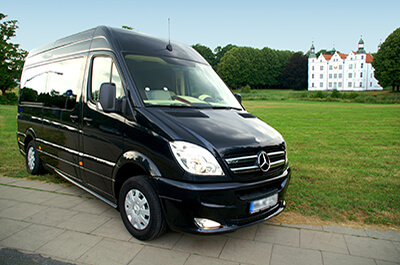 VIP SPRINTER
e.g. Mercedes Sprinter
Depending on the individual interior design, 4 – 19 passenger seats, conference seating with table and 6 chairs can be booked. Wi-Fi and further multimedia equipment as well as refrigerator inclusive, coffee machine counting to special equipment. Maximum configuration (15 – 19 passenger seats) holds a maximum of 15 large suitcases. Large beverage selection and catering on board can be arranged in advance. The chauffeurs are neatly dressed, with a suit and tie upon request.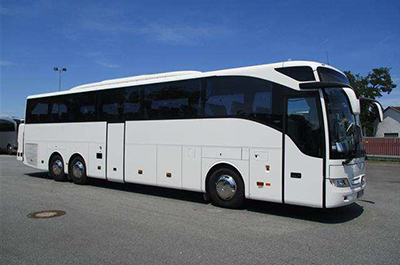 BUSINESS CLASS BUS
e.g. Mercedes Tourismo, Neoplan Cityliner
30 – 78 passenger seats, from 64 persons double decker are used. Vehicles are on average max. 4 years old and have all modern safety systems of the latest vehicle technology.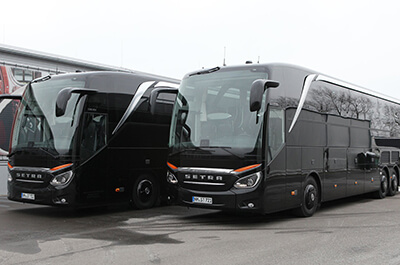 FIRST CLASS BUS
e.g. Setra HDH, Neoplan Starliner
28 – 50 passenger seats – depending on region "2 + 1-seating bus" available, means three instead of four seats per row. Sockets on all seats, tinted "privacy" windows and Wi-Fi available.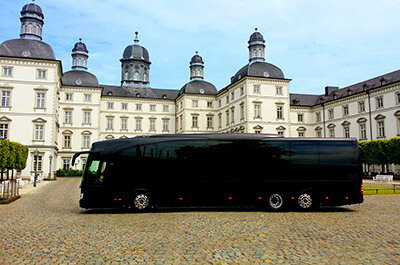 VIP BUS
e.g. Neoplan Starliner, Mercedes Tourismo
The most exclusive equipment which is available in the bus industry: darkened windows, wooden floor, leather seating – depending on the model, tables with vis-à-vis seating or leg rests available, on-board kitchen where food can be prepared and drinks can be served on request. 220 volt sockets at all seats, Wi-Fi and multiple screens on board.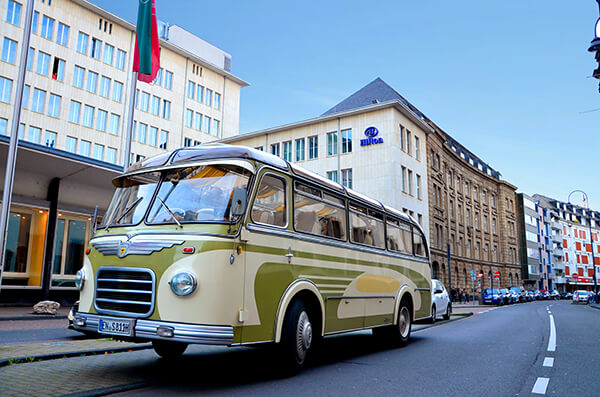 The special highlight
Oldtimer busses
The vintage buses from the 50s, 60s and 70s offer 5 – 60 passenger seats depending on the model. All vehicles were lovingly restored and equipped with individual special equipment such as panoramic glazing. Nationwide about 600 models are available.
You wish a branding of the engaged vehicles?
RELAY works closely with local and experienced service providers to brand the vehicles for promotional purposes within your event. Whether classic lettering on limousines and vans, partial foiling of buses or interior branding, for example, printed head cushions, information material in the seat pockets or image films and logos on the screens in the vehicle: Depending on the budget, RELAY develops a branding concept with maximum costs -benefit factor together with you.