Your shuttle service partner from Cologne
Shuttle-Service in Germany
from RELAY GmbH
RELAY generally uses the term shuttle service to describe the interlocking of transfer services within the framework of events. The shuttle service can be carried out with limousines, vans, buses or even vintage buses. The trustful cooperation with local partners enables us to offer a full portfolio of vehicles and is not limited to individual models or vehicle sizes. The vehicles used are driven by drivers with appropriate passenger transport certificates from our local, licensed partners.
When organising a shuttle service for an event, we take into account various factors from years of experience in order to ensure a smooth realisation.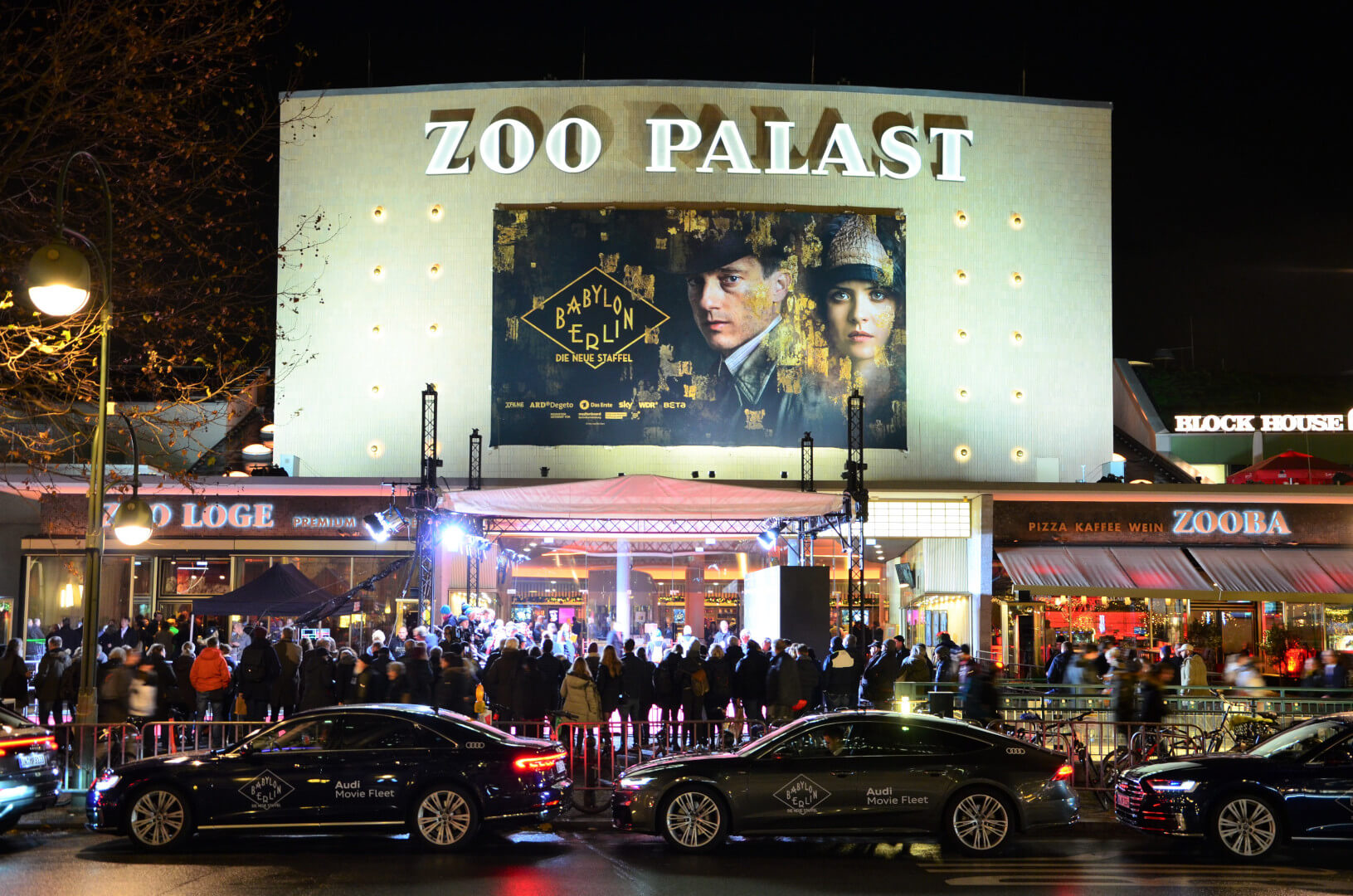 Shuttle-Service – Working on equal footing
The RELAY team pays special attention to a team work on an equal footing with the client. The closer the event gets, the more short-term changes have to be considered and the schedule has to be adjusted accordingly. The peak of this is usually the arrival day, where flight delays can have a strong influence on the planned schedule. In these cases, the dispatcher on site is particularly important and handles it with aplomb. The dispatcher changes the drivers' schedules while the event is in progress, thus ensuring that all trips are carried out according to plan.
Gala events with a red carpet also present special challenges. In addition to meticulous punctuality, it is also important to know which guest is about to arrive with which vehicle on the red carpet, so that the coordinators and security staff on site are informed. For photo constellations of e.g. actors, RELAY guarantees the arrival of guests in already matching groups on the red carpet. The same of course applies to music bands that are driven to their show. Depending on your wishes, we transport the artists either directly to the backstage area or to the entrance of the location amidst the fans. Within the shuttle service of VIPs, RELAY also takes into account special features which are summarized in so-called "riders". These can be cushions or blankets required in the vehicle, water of a special brand or technical equipment such as a long cable with which the passenger can play their music directly in the car.
Planning shuttle services there can be various stumbling blocks. Through the mix of many years of experience in the areas of passenger transport, event management and the hotel industry, the RELAY team can always act proactively and with aplomb. In the course of an event, for example, there must always be a high degree of flexibility, if the conference lasts longer than planned or the guests do not want to go home on the last bus and the organizer reschedules the closing time.
During many years of cooperation within the scope of events at different destinations in Europe, the event teams of the client and RELAY connect and thus become one unit for the event.
Shuttle service in Germany & Europe
RELAY can offer shuttle services not only in its home region around Cologne, Bonn and Düsseldorf, but also far beyond. RELAY's partner companies are located in all major German cities such as Hamburg, Berlin and Munich. But also important are the trade fair cities such as Leipzig, Hanover, Stuttgart and Nuremberg. Due to the close integration of the large cities of Duisburg, Essen and Dortmund, the Ruhr area can also be covered. Due to the close cooperation with its customers, RELAY is also the contact for shuttle services of its customers in large parts of Europe. In Europe the top destinations such as Paris, Barcelona or London are often in demand. For all destinations, RELAY's customers always have one contact person from the planning of the event to the billing and do not have to look for partners in each destination themselves. Through the centrally organised shuttle service via RELAY, a constant quality can be guaranteed and at the same time a large time saving can be made.
Satisfied costumers
We attach importance to win-win situations
Many people need transport & logistics, only few can do it. But for events and shows - it takes more: you have to understand "event", this means being creative, dealing with stressful situations. Problem solver, co-thinker, sparring partner, customer advisor and at the very end also transport and logistics professional. Event agencies need such partners at their side. For many years we have been in good hands by Bernard Lay with our demanding premium customers, who always makes our projects a top priority and thus contributes to our success.
Frank Mielke
We had the pleasure of working with Relay on a very high profile, high demanding project in Germany. The service was absolutely flawless and it made our job so much easier. Last minute changes were dealt with efficiently and accurately. I highly recommend Bernard and his team for any ground transport requirements.
Nash Khan
Nobody does it better in the event business.
With Relay, you have a partner who thinks along and participates from the start to finish. Perfectly organized and solution-orientated.
If you're looking for a service provider that's always one step ahead, Bernard Lay is exactly the right one for you.
Shirin Steinmann
While planning our film premieres, we always depend on reliable and qualified suppliers. With Bernard Lay we have found a person and company that engages with our complex planning process. On the day of the event his team merges seamlessly with our event's team and contributes to a smooth operation. Professionalism and confidentiality is very important for our high-demanding VIP guests. We are very happy to have found the right partner for the job.
Nicole Traummüller
Experience meets flexibility
Over 15 years experience in event logistics combined with agility
What is the high competence of RELAY?
RELAY is a young, agile and at the same time high-competent company. The staff has in average over 15 years experience in hotel, tourism, events and passenger transport. RELAY understands you and your general as well as special needs. RELAY offers excellent service attitude, flexibility (spatial as well as intellectual) and pragmatic, solution-oriented thinking. RELAY is your extended arm in the entire event organization and saves valuable time and expense: One of our employees accompanies you personally from the quoting, through the project support on site to billing through the whole phase. A constant flow of information and smooth running are always priorities for RELAY.
Contact
Your point of contact for shuttle service, bus shuttle, baggage logistics and more
Bernard Lay
Managing Director