Your bus logistics partner from Cologne
Bus logistic in Germany
from RELAY GmbH
RELAY has an eye on all the relevant factors in the organisation and realisation of your bus logistics project in order to guarantee a successful and smooth process. In the beginning, there is a briefing by the company or agency whereupon we develop a differentiated timetable concept. Departure points, routes as well as arrival and departure times are established with foresight. Experience shows that the staggered arrival of all participants within a given time window is a good solution, so that the registration is not overloaded. For the evening bus transfers, the vehicles are divided into different routes to take the guests to the selected hotels. The so-called circulation concept is also calculated in detail in advance. Another important point of the planning is the local access and parking situation. Both on site at the event location and at the hotels, as well as on the respective routes between the stops. In order to rule out the possibility that, for example, short-term construction sites could make the routes impassable for a bus, these are checked again by our logistics professionals shortly before the event begins. Within the framework of bus logistics, projects can include rallying trips to enable guests to travel from different destinations. Alternatively, pick-ups can also be made from railway stations, airports or company locations.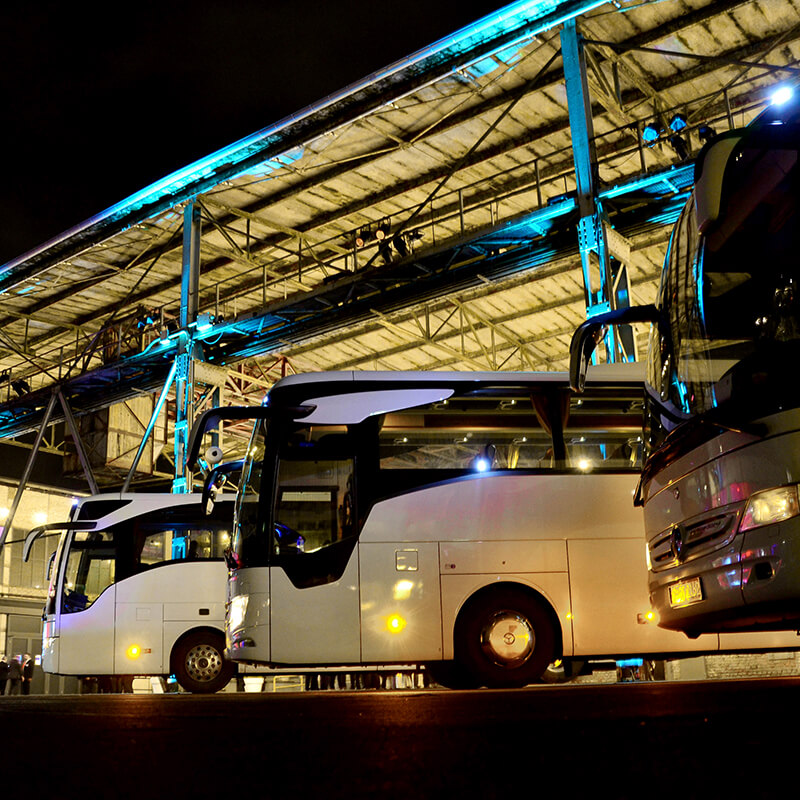 360°-service bus logistics
In addition to pure passenger transport, RELAY also takes on the assignment of related services. Beverages of your choice can be provided in the buses and we are also happy to organise additional lunch packages with fruit, delicious sandwiches or pastries. In order to prepare the participants for the upcoming event already on the trip, we offer the distribution of give-aways or information brochures. An additional service is the hotline before and during the order so that passengers can find out about the arrival/departure status of "their" bus at any time.
From a marketing perspective, vehicle Branding is often worthwhile, especially when the buses are in operation for several days. Depending on the budget, it is possible to place a sticker on the front of the upper edge of the windshield, to foil the sides of the vehicles or to use so-called full branding, i.e. complete foil wrapping of the vehicle. These options generate correspondingly high attention and advertising impact.
You can expect a coordinated offer which will be just as individual as your enquiry. RELAY responds comprehensively to your needs and provides you with a broad portfolio of available vehicles, from VIP buses and sprinters to nightliners and comfortable buses. Our Europe-wide network of selected partners makes this possible. This enables us to offer our services throughout Germany and other European countries.
Above all, we recommend a personal meeting for coordination in advance for final detailed planning.
Dispatcher on site
Depending on the size of the event, at least one dispatcher will be on site to coordinate the vehicles. For bus logistics projects, we recommend at least a team of two contact persons from our side on site. Like this, we ensure optimised communication between client, drivers and the control centre. The dispatcher also checks the bus signage. Furthermore, the dispatchers also inform the guests about routes, departure times or, if necessary, lost property. For optimal preparation, the dispatcher visits the premises or the locations in advance to be informed about the locations at an early stage and to contact the public order office or the police if necessary. Usually, the dispatcher is also responsible for hosts and hostesses on the day of the event, who take over the guidance of the guests.
Bus logistics in Germany & Europe
In addition to its headquarters in Cologne, the RELAY team is constantly on the road to coordinate bus logistics projects in Germany and Europe. Besides the big hotspots of the event industry like Hamburg, Berlin and Munich, the team is also active in trade fair locations like Hanover or Düsseldorf. Kassel, as the most central city in Germany, should not be ignored, as it is particularly suitable for rallying. When customers have got to know the services of RELAY in Germany, they often wish to use the RELAY team abroad. Projects in Vienna and Amsterdam have already been implemented. Depending on the customer's requirements, RELAY uses local bus companies to provide the desired fleet.
Satisfied costumers
We attach importance to win-win situations
Many people need transport & logistics, only few can do it. But for events and shows - it takes more: you have to understand "event", this means being creative, dealing with stressful situations. Problem solver, co-thinker, sparring partner, customer advisor and at the very end also transport and logistics professional. Event agencies need such partners at their side. For many years we have been in good hands by Bernard Lay with our demanding premium customers, who always makes our projects a top priority and thus contributes to our success.
Frank Mielke
We had the pleasure of working with Relay on a very high profile, high demanding project in Germany. The service was absolutely flawless and it made our job so much easier. Last minute changes were dealt with efficiently and accurately. I highly recommend Bernard and his team for any ground transport requirements.
Nash Khan
Nobody does it better in the event business.
With Relay, you have a partner who thinks along and participates from the start to finish. Perfectly organized and solution-orientated.
If you're looking for a service provider that's always one step ahead, Bernard Lay is exactly the right one for you.
Shirin Steinmann
While planning our film premieres, we always depend on reliable and qualified suppliers. With Bernard Lay we have found a person and company that engages with our complex planning process. On the day of the event his team merges seamlessly with our event's team and contributes to a smooth operation. Professionalism and confidentiality is very important for our high-demanding VIP guests. We are very happy to have found the right partner for the job.
Nicole Traummüller
Experience meets flexibility
Over 15 years experience in event logistics combined with agility
What is the high competence of RELAY?
RELAY is a young, agile and at the same time high-competent company. The staff has in average over 15 years experience in hotel, tourism, events and passenger transport. RELAY understands you and your general as well as special needs. RELAY offers excellent service attitude, flexibility (spatial as well as intellectual) and pragmatic, solution-oriented thinking. RELAY is your extended arm in the entire event organization and saves valuable time and expense: One of our employees accompanies you personally from the quoting, through the project support on site to billing through the whole phase. A constant flow of information and smooth running are always priorities for RELAY.
Contact
Your point of contact for shuttle service, bus shuttle, baggage logistics and more
Bernard Lay
Managing Director